INSTITUTIONAL EFFECTIVENESS:
The Enrolled Student Survey was developed at SPC as one component of a college-wide assessment system to ensure the delivery of quality academic and student support services. The specific purposes of this annual survey are to ascertain how our enrolled students perceive the College's academic and student support services.
The primary purpose of the Entering Student Survey is to develop a demographic profile of the students entering the College, discover what factors influence their decision to apply to the College, discern how they learned about the College, and measure their perception of the importance of various academic, student support services and tutoring areas provided to them by the College.
The Graduating Student Survey is part of a comprehensive college-wide assessment program developed to examine the demographic profile of the responding graduates, assess their perceptions of the educational experience at the College, and determine how the educational process at the College has changed their behavior and/or their knowledge as it relates to some specific areas of inquiry (educational outcomes).
The Student Survey of Instruction (SSI) is administered during each semester and is delivered through a widget which will automatically appear in the course at the beginning of the survey period.  The SSI contains eight questions and a comment field, which provides students the opportunity to assess each of their courses.
The Recent Alumni Survey was designed to collect information related to career preparation, preparation for continuing education, and the current employment information and educational status of SPC's recent graduates.
The Employer Survey was designed to gain insight into an employer's perceptions of the quality of hired SPC graduates and identify the employer's willingness to support various college activities such as student training or placement.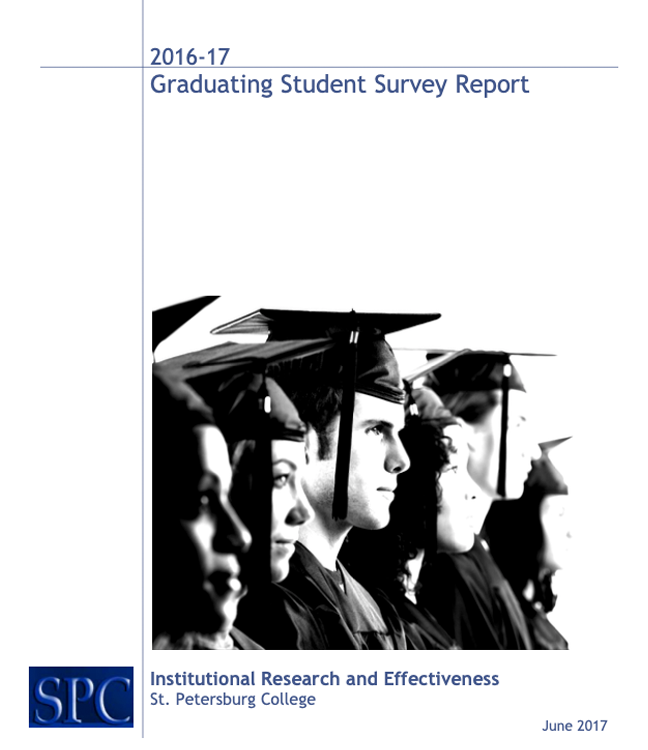 Enrolled Student Survey Reports
Entering Student Survey Reports
Graduating Student Survey Reports
Student Survey of Instruction
Recent Alumni Survey
Recent Alumni Survey (by graduating year)
Employer Survey
Employer Survey (by graduating year)